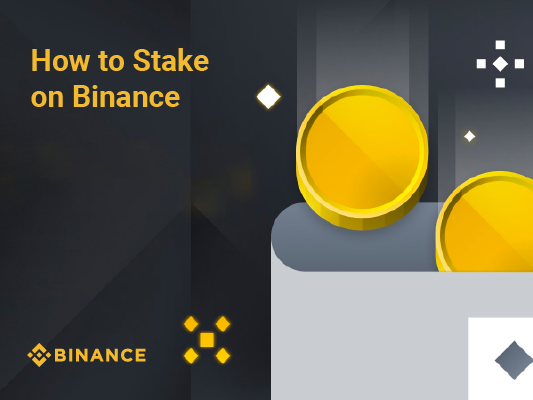 Cryptocurrency investors worldwide enjoy the income created through crypto staking rewards, an income paid to crypto owners who lock up their digital tokens for a certain period to contribute to the performance and safety of the blockchain network. Many DeFi protocols offer great incentives for those who stake crypto and lock them into risky smart contracts by providing interest on investment and governance tokens.
To earn rewards, you have to participate in Staking. The Binance staking reward system for eligible cryptocurrency lets you accumulate more coins as the Binance algorithm optimizes staking opportunities.
Binance exchange is one of the best crypto staking platforms supporting nearly 100 different staking coins. In this review, we'll dive deep into the Binance DeFi staking exchange, exploring the exchange's staking options, supported crypto coins, etc., and learn how to stake on Binance.
Let's get started!
What Is Staking
Sometimes you may just HODL your cryptocurrency on an exchange or a wallet, and it doesn't earn you any money. Well, the staking process offers you both HODL your cryptocurrency and earn a return on your investment. Staking is a popular way to generate extra income with your cryptocurrencies if you plan to hold them for a specific period.
Most major cryptocurrency exchanges offer staking, allowing users to earn passive income for holding their cryptocurrency on the exchange.
Staking only applies to blockchains that utilize the Proof-of-Stake (PoS) consensus mechanism, in which Staking is used to validate transactions. It involves allocating responsibility in maintaining the public ledger to a participant node in proportion to the number of virtual currency tokens it holds. In short, anyone holding a required number of coins can earn staking rewards and participate in validation, i.e., verify transactions as needed. As a result, crypto holders often choose to stake coins in the hope of earning interest instead of trading them.
Those who stake their crypto in a PoS blockchain are called validators. Validators provide value to the network by locking assets for an agreed-upon 'staking period' and earn rewards in return. PoS validators are selected based on the higher number of staked coins.
Staking Pools
Individuals can start staking if they have enough assets needed to become a validator on the blockchain network. However, they can use staking pools if they want to participate in the staking activity without having to stake large amounts of a crypto token. A staking pool is a tool allowing stakeholders to pool in their tokens to give the staking pool operator a validator status and earn staking rewards for their computational resources' contributions.
For example, staking on the Ethereum Network requires 32 ETH tokens, which equals approximately $40,000 and might be challenging for the average investor.
Binance Staking
Binance is one of the world's largest cryptocurrency exchanges, operating in over 180 countries. Binance exchange is not available in the U.S.; instead, people can use Binance. U.S. However, if you're a U.S. resident, you can still learn how to use Binance by checking out our CoinStats blog.
Binance is one of the best crypto staking platforms for investors looking to earn high rewards. Binance supports around 100 staking coins, covering a wide range of projects and APYs. Moreover, Binance offers various staking periods ranging from 10,30, 60, or 90 days.
With Binance, you can stake with several different features, including:
Locked Staking, i.e., holding your funds in a wallet to support the blockchain's operations.
DeFi Staking, i.e., participating in different DeFi products via the Binance exchange.
Locked Staking 
                                                          Image from Binance.com                          
Binance locked staking is a process where you lock your funds for a certain amount of days to generate an interest yield. Currently, there are five different cryptocurrencies available for Locked Staking, including BNB (BNB), NKN (NKN), Kusama (KSM), Moonbeam (GLMR), and EOS (EOS). A set minimum amount for each is required for Staking, and the staking period is from 14 to 120 days.
Here's a video that goes into more details on Locked Staking: https://youtu.be/E8-18q0m0A0
How to Enter Locked Staking

You must sign up with Binance with your email and password. Now, log in, look for Earn in the header menu, and click on Binance Earn. Search for your coin and check for all available options, including locked Staking, flexible Staking, etc. You can select any options for locked staking for 30, 60, and 90 days with separate interest returns.
DeFi Staking 
DeFi staking on Binance features high APYs. You can stake your coins in a liquidity pool to provide liquidity or in a protocol's reward pool in return for rewards. DeFi staking offers fantastic opportunities, but it also carries risks, and for this reason, Binance vets their DeFi staking partners to minimize risks to their customers.
Binance Earn and ETH 2.0 Staking
Binance Earn is a feature that enables you to earn passive income on your holdings. You usually have to stake your cryptocurrencies for 60 days to get the best staking interest.
Stake Ethereum ETH 2.0 on Binance
You can stake Ethereum ETH 2.0 on Binance Earn for a small fee. Here's Binance staking ETH 2.0 summary:
Minimum stake amount: 0.0001 ETH
Staking APY: 5%-20%
Reward calculation: During the ETH 2.0 staking period, BETH rewards will be distributed daily based on the user's BETH holdings. Users can trade between ETH and BETH freely. 
How to Stake ETH 2.0 With Binance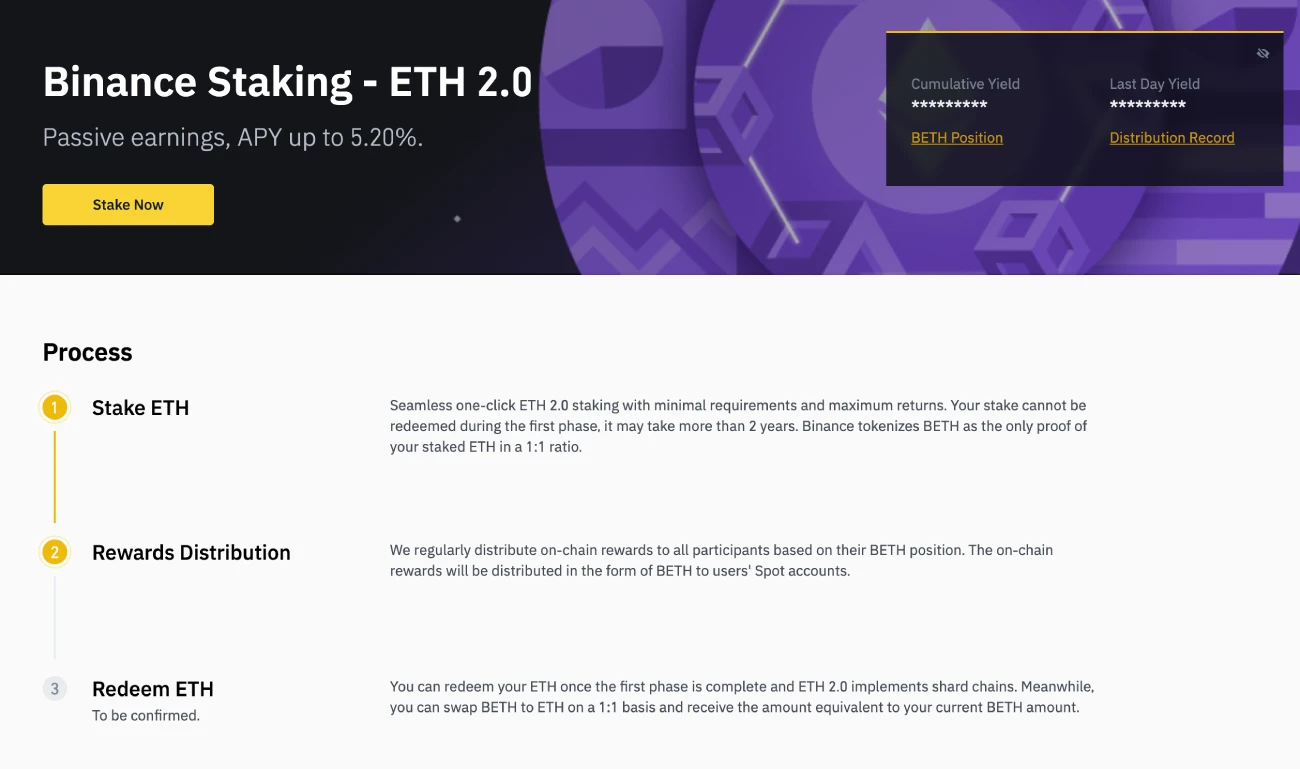 To stake on Binance, you need an account with Binance and an ETH balance.
Sign up with Binance and deposit Ethereum
Logín to your Binance account
Go to Binance ETH 2.0 staking page and click on Stake now
Enter the amount for ETH 2.0 staking. Make sure to read the notes regarding your funds lock period, which can be over 2 years.
Read all the agreements carefully, check the boxes, and click on the final confirmation.Congratulations, you have now successfully staked into ETH 2.0!
DOT Slot Auction
Binance's DOT slot auctions allow you to participate in the Polkadot slot auctions and earn. During the auctions' open phase, users can stake their DOT holdings behind their favorite projects. Once the open phase is complete, the network will decide the cut-off time for bids. The project with the most DOT staked behind it at this randomized cut-off time is the winner, and all the DOT staked behind this project is locked for 96 weeks. During this lockup period, the winning project will distribute their tokens quarterly as a reward to their backers.
Additionally, Binance will also distribute BDOT tokens to all stakers at a 1:1 ratio. These BDOT tokens can be used while the DOT is locked in staking. If a project didn't win the slot auction, then those who staked DOT towards the project receive their DOT back.
Here are the stages of the DOT Auction:
1. Warm-up Period. The warm-up period is seven days to allow you to test out the auction.

2. Auction Period. Stake DOTs for the project you want to support. 
3. Reward Distribution. Binance rewards 100% of the voting rewards to participants. 
How to Join Binance's DOT Slot Auction
Top up on your DOT wallet balance
Select the PolkaDOT Auction option on the home page
Choose the project you want to vote for
Click vote for the project you'd like to vote for
Set the amount of DOT you'd like to stake.
Activities Staking
This feature on the Binance exchange allows you to earn rewards for staking a specific cryptocurrency for a specific staking period. Activities staking process lasts only for a specific period. You can check the Activities section on Binance as these offers vary monthly.
Locked Savings In Binance
You can lock your funds on Binance for a varying interest rate depending on the locking period. For instance, you can lock your BUSD, USDC, or USDT for 7 days for a 4.5% AIR or 90 days for a 5.1%.
Binance Vault
You can lock your BNB and earn an APY with Binance's BNB vault section. The Binance Vault invests your funds in places with guaranteed yield, such as the launch pool or flexible saving.
Binance Launchpad
The Binance Launchpad features several projects to allow users to stake their coins to earn rewards. The list of projects available for Staking is constantly changing.
Staking on Binance.US
While the global Binance exchange offers over 100 different cryptocurrencies for Staking, Binance.US only offers four: Vechain, Tezos, Cosmos, and Algorand, due to U.S. regulation.
Binance Earn
Binance Earn allows you to earn on your crypto holdings. Binance Earn includes:
Locked Savings
Fixed Savings provides you with high interest rates because of the fixed interest rate and term. You can have your funds locked from seven to ninety days to earn a higher APY.
Flexible Savings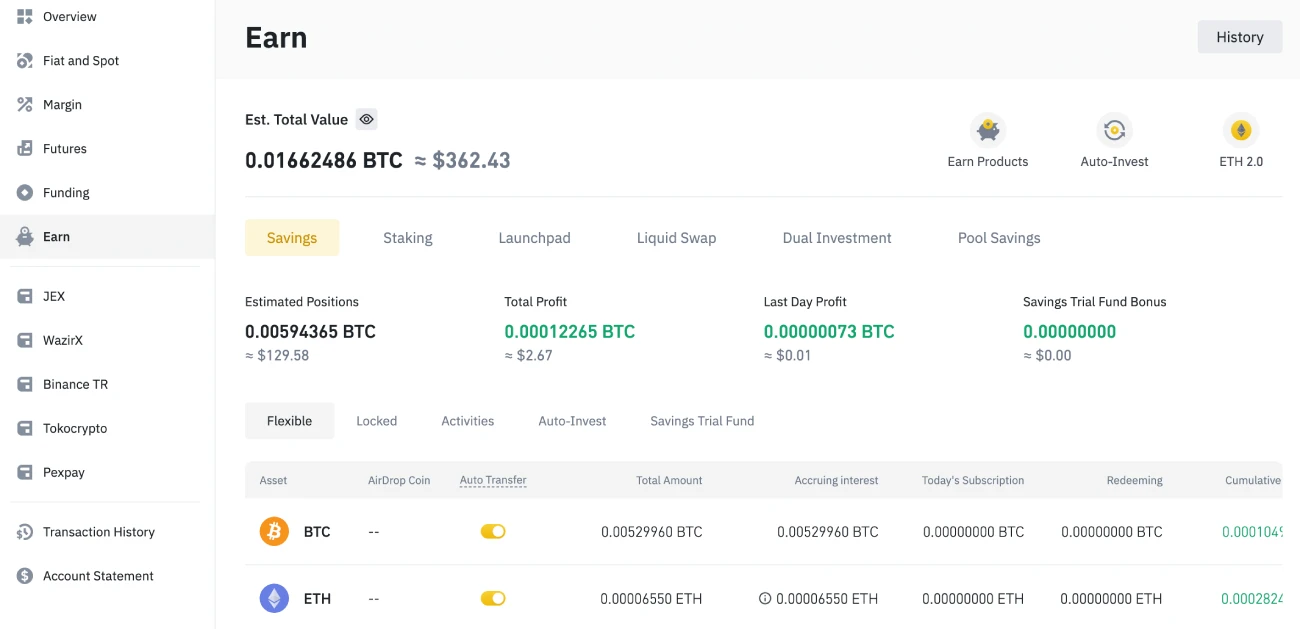 Flexible Savings provides excellent flexibility in enabling you to earn interest on your funds. You can deposit your funds from your Spot Wallet into your Flexible Savings account, earn interest, and have them redeemed anytime.
How to Stake on Binance
Now, let's explore how you can start staking crypto on Binance in a step-by-step guide:
Step #1: Registration
To register a Binance account, go to the Binance official website, and click Register at the top-right corner. Confirm your residential country and select your account type. Enter your email address (or phone number), and create a password. You'll be asked to confirm your email (or phone number) by clicking the verification link you'll receive from Binance.
You need to complete the KYC verification to get authenticated and start staking. To complete the verification, you must provide a government-issued I.D. and personal information. Once your application is reviewed and accepted, you can deposit and withdraw up to $200k per day in fiat currency, deposit an unlimited amount of crypto, have access to altcoin or BNB staking, etc.
Step #2: BNB Vault
Let's first look into BNB staking since it's different than staking other coins and tokens on Binance. Find Earn on the top menu and select BNB Vault. All you need to do is have some BNB in your spot wallet, press Stake, and select the amount of BNB that you'd like to stake.
You can see your estimated APY at the top-left corner of the page. Furthermore, there's also an option to stake your BNB from your spot wallet automatically.
The Binance staking rewards for BNB are high, and the staking process itself is straightforward.
Note that BNB staking isn't available on Binance. U.S.
Step #3: Locked Staking
In the same Earn section, navigate to Staking, and you'll find yourself on the Locked Staking page. There are over 100 cryptocurrencies available for staking.
The estimated Binance staking rewards (APYs) differ depending on the redemption period. Now, pick an asset, and press Stake to check the summary of the entire staking period, your estimated gains, a few disclaimers, and additional info. You must then enter the amount of the asset that you'd like to start staking, confirm it, and start earning passive interest on your crypto!
Users can choose to redeem in advance. After choosing early redemption, the principal will be returned to the spot account, and the distributed interest will be deducted from the refunded principal.
Step #4: DeFi Staking
Navigate to the DeFi Staking section of the platform that includes fewer crypto assets and the option to choose between a flexible lock, meaning you can withdraw your assets when you decide and locked Staking when your assets will be locked for a designated period.
The staking process is similar to Locked Staking – you choose an asset, check all relevant information, enter the amount you'd like to dedicate to the DeFi pools and confirm the stake.
Tip: Note that VET, NEO, and ONT differ from other POS tokens. Staking VET rewards VTHO (NEO-GAS, ONT-ONG); therefore, the interest is not distributed daily. Between 00:00 – 04:00 (UTC) on the next day after the product expires, users' staked NEO, VET, ONT, and earned GAS, VTHO, and ONG will be automatically transferred to the spot wallets.
Conclusion
Staking isa legitimate way to earn some passive income on your crypto holdings. However, Staking comes with certain risks that are minimized if choosing a reliable staking platform. Binance is among the most popular and reputable cryptocurrency exchanges and offers a simple and profitable staking process for a wide range of crypto assets.
Additionally, Binance offers an automated asset staking feature for BNB staking.
Cryptocurrency investors looking to take their trading to the next level will require the service of a crypto portfolio tracker to keep up with the pace of the industry.  CoinStats offers one of the best crypto portfolio trackers in the market, packed with incredible features to help traders monitor all their holdings across different exchanges from one platform. 
To learn more about DeFi's tectonic shift in the finance world and how decentralized finance empowers people, you're welcome to visit our CoinStats blog. You can read our articles such as What Is DeFi, explore our in-depth buying guides on various cryptocurrencies, such as How to Buy SushiSwap, How to Buy Cryptocurrency, and learn more about wallets, and cryptocurrency exchanges, portfolio trackers, etc.
Investment Advice Disclaimer: No part of the content that CoinStats provides constitutes financial advice, legal advice, or any other form of advice meant for your specific reliance for any purpose. Any use or reliance on our content is solely at your own risk and discretion. You should conduct your own research, review, analyze and verify our content before relying on them. Trading is a highly risky activity that can lead to major losses.